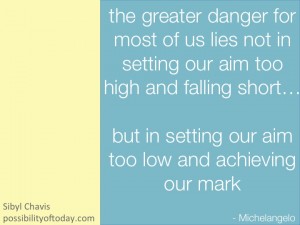 "The greater danger for most of us lies not in setting our aim too high and falling short; but in setting our aim too low and achieving our mark." Michelangelo
Do you want to know one of the easiest traps to fall into? Setting your aim too low.
How do I know it's an easy trap to fall into?
Because I fell into that trap and didn't even realize it.
I had no clue I had set my aim too low because I was setting all types of goals and making pretty good progress.
However, there was one problem … and it was a pretty big one.
I was creating goals and deciding what was possible based on where I was and not necessarily where I ultimately wanted to be if the sky was the limit.
For some reason, I decided that when it came to setting goals and going after things, I needed to be "practical" and go after things that were "actually possible".
Now, of course, I didn't really realize I was doing this but, then I came across this quote.
"If you limit your choices only to what seems possible or reasonable, you disconnect yourself from what you truly want, and all that is left is a compromise." Robert Fritz
"Oh crap", I thought. "I totally have done that."
My definition of "actually possible" was way too limiting and causing me not to think big enough. Imagine that.
So, I decided to change things up … and, of course I want you to join me because it is totally working.
From time to time, I now add a different kind of goal to my list.
And, for just this one goal, I throw "being realistic and practical" out the window and just focus on what I really want.
Why not? What do I have to lose?
One goal I added about a year ago (that seemed absolutely crazy at the time and I had no idea how on earth it could really happen) was to move across the country to California… ✔ (completed)
Another goal I added awhile ago was to set things up so I could transition out of my corporate job and start working for myself full time (when I added this one to the list, it seemed even crazier than the first one) … ✔ (completed)
As I am sure you can imagine, after seeing this process work, it is soooooo my new approach.
I have finally realized that we have to remind ourselves every single day that life is filled with possibilities and there are always amazing things waiting to come our way if we believe they are possible and actually go after them.
When we get caught up in the daily hustle and bustle of life, it's easy to forget this reality. It's easy to think too small. That's what I did.
And, that's why you have to make sure you have a process that continually reminds you to rethink what is really possible  and to make sure you go for those BIG things you really want. You'll be amazed at the results you will get.
the possibility of today:
Add one BIG goal to your list Today. Don't worry about being realistic or practical. Just think of one thing you really, really want. You can and still should have other "realistic" goals on your list, but make sure you also add at least one BIG goal Today.
Build more and more confidence in your ability to reach your BIG goal. Start working Today (and every Today that follows) on convincing yourself that it absolutely is possible. If you need to break down some limiting beliefs, Read This.
Take action now. Don't wait until tomorrow. Plan what you are going to do Today and do it. It doesn't matter how big or small the step is … just take it. Many of us are masters at putting things off until we think the time is perfect. The perfect time will not just magically appear. You have to make Today the perfect time and move.
Take steps daily. Put your BIG goal on your "to do" list and do something every single day to keep things moving in the right direction.
Live Today Better than Yesterday.
If you get a chance, please drop by Leslie Samuel's great blog, Learning with Leslie and check out my interview with Leslie.