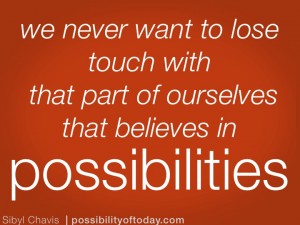 Welcome to the New Possibility of Today Website!
The Possibility of Today began as an idea, grew into a simple blog, then a vibrant group on Facebook and now into a vital community of change seekers some 30,000 strong.
Proof–yet again–of what can happen when we rethink what is possible.
When I was sitting on my couch 4 years ago, burned out after a long day at work and in search of something that would inspire me to take advantage of my own possibilities, I never would have guessed in a million years that my simple longing was going to transform into a group of like-minded people supporting each other to take advantage of the possibilities of today.
Thanks to all of you for being a part of this community and strengthening my own belief in what is possible. I have so much gratitude for all the time you spend here and all the experiences and wisdom you share in the comments.
There truly is so much possibility in Today (and every Today that follows).
becoming a true believer
"Because you are alive, everything is possible."   Thích Nhất Hạnh
It goes without saying, that I've come to believe we were all meant to be idealists, but I also realize that a lot of times that is easier said than done.
Let's be real, it can be tough to always keep your head up and believe in all that is possible, especially when life or other people may be giving us every reason to question that truth.
All we have to really do though is make a choice.
We all can choose to be idealists (despite anything we see to the contrary) and open ourselves up to a whole new life of possibilities. This website is testament to this reality and I want you to join me.
We all have to absolutely believe in our own possibilities and know that amazing things are coming our way .
No more just "kind of" believing in it. No more using excuses or deciding that something is too far-fetched. It is soooo time to take a quantum leap forward. Are you ready?
the possibility of today:
1. Choose Today to be an idealist – not a blind optimist –  but rather a true believer in all that is always possible.
2. Every single morning remind yourself of all that is really possible. Think of all you are capable of. It's important to keep the possibility of today at the forefront of your mind every single day.
3. Rethink what's possible. Make sure you haven't settled or sold yourself short by buying into any limiting beliefs. Be on the lookout for them and if you see any, immediately start breaking them down.
4. Take advantage of your possibilities. Lean in the direction you want to go. Take action. Do something today and every single day to get you closer to where you want to be.
Live Today Better than Yesterday.
Click Here to Check out the New Site
I have to thank the team of amazing people who helped me pull the new site together: Kathleen Mazzocco, Amy Hartman, Jesse Petersen, Kristin Kaye, and of course Corbett Barr, who helped me create the foundation for Possibility of Today. I really hope you like the new site. Please let me know what you think and I hope that every time you drop by here, you will always be reminded that there really is so much possibility in Today.