"It doesn't take much to make each day better, but it does take intent".
This saying is one of my all time favorites because it really is so true that you can literally improve how you experience everything simply by choosing how you move through the day. I think the reason I love this saying so much is because for far too many years I used to go through my days on autopilot – jumping from one thing to the next and just reacting to the myriad of things that came my way. I was the farthest thing away from being thoughtful about how I moved through the day.
It used to be so frustrating because I knew how I wanted to feel as I moved through the day. I wanted to have a great peace of mind and not feel frazzled. I didn't want to overreact or worry about things unnecessarily. I knew I wanted to really live in the moment and enjoy the experiences that came my way. But, there were so many days when that just wouldn't happen.

I finally learned that knowing what you want is really only the first step. You've got to choose to take action, make changes and do everything you can day after day get to where you want to be. You've got to Live Today Better than Yesterday and continually take steps in the right direction.
So, it became obvious to me that I was going to have to be a lot more thoughtful and literally choose to move through my day differently by keeping the right things top of mind.
For those of you that are a part of the Possibility of Today Facebook Community, you see the thoughts I am having everyday. I discovered some time ago that one of the best things I could do was make certain I kept the right types of thoughts and lessons top of mind. It just helps keep me focused on the right things and more thoughtful as I move through the day.
And, I am hoping you will join me if you haven't already because focusing on the right thoughts really does make each day better. Please Click Here drop by and join the Facebook Page.
Here are some of my favorite message from the past couple of weeks.
5 Simple But Powerful Messages You Want to Keep Top of Mind Today
#1 "Every experience has shaped you, strengthened you, and set you up to take advantage of the future in a new and improved way."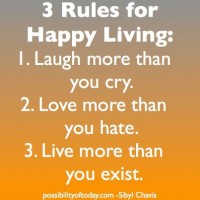 #2 "For every minute you remain angry, you give up sixty seconds of peace of mind." Ralph Waldo Emerson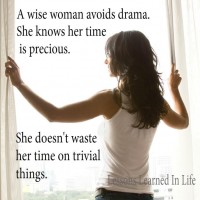 #3 "Some say you made your bed now you have to lay in it. But I say, "Let's change the sheets and try again."
I really loved this one shared by Zen Mama and created by Always leave em' Laughing.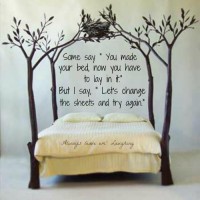 #4 "When we are facing the unknown, we must believe that one of two things will happen….There will be something solid for us to stand on or we will be taught to fly." ~Patrick Overton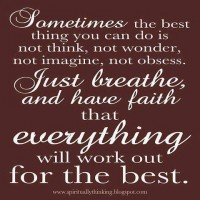 #5 "Learn to enjoy every minute of your life. Be happy now. Don't wait for something outside of yourself to make you happy in the future." -Earl Nightingale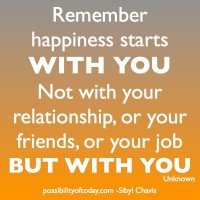 Live Today Better than Yesterday.