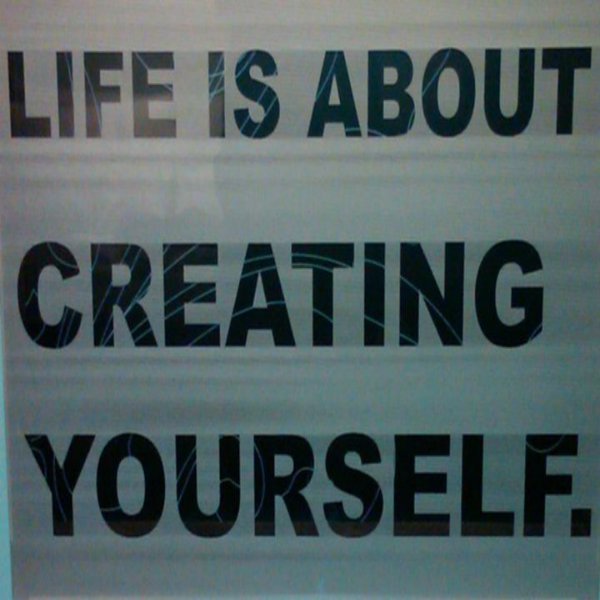 Have you ever gotten a sign pointing you in a certain direction? Maybe you were trying to decide how to handle a situation and then something caught your attention and you realized exactly what you needed to do?
These signs can literally change the course of our lives — and that's exactly what happened to me about three years ago. In fact, the sign I saw was an actual sign (pictured to the left) and it was a little nudge from the Universe reassuring me that it was okay for me to quit my job and start The Possibility of Today.
I saw this sign while I was on a business trip in Chicago, which normally is a great city to spend a couple of days in, but on that day I was having one of those "blah days" and feeling less than thrilled to be on the road again.
I had been travelling non-stop and had my fill of airports, taxis and late night room service. It's not that there was anything specifically wrong with my job, but the feeling that I should be doing something different with my life was continually in the background.
My lack of clarity was frustrating and weighing pretty heavily on me – especially when I was alone on the road.
Although the number of days when I felt uninspired had steadily grown for several years and I knew I was absolutely on the "human hamster wheel," every time I thought about actually quitting my job, I always decided it was just not the time.
My mind had become a master at recycling the same thoughts over and over again. I am too old to make a career change. I need to be practical. We have bills to pay, a mortgage, car notes, school tuition, childcare, and so many other responsibilities. How on earth could we manage all of it if I quit my job?
I made my way to my hotel and assumed it was going to be an ordinary business trip, but then I looked up to see this sign in my hotel room – reminding me of George Bernard Shaw's famous quote- "Life is about creating yourself".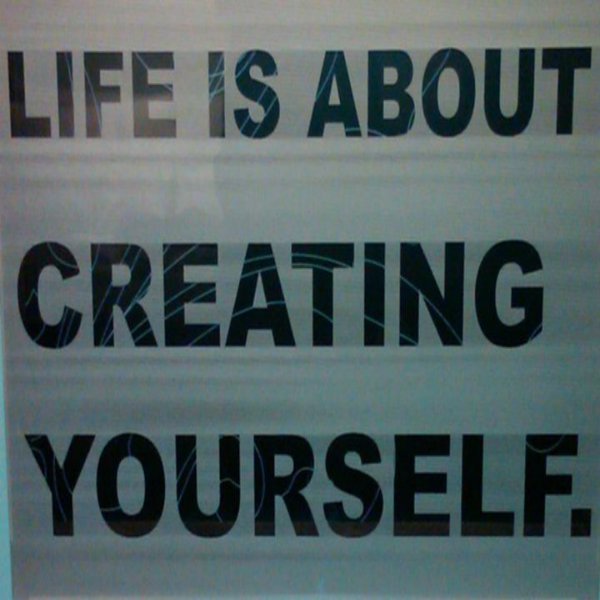 It's almost unbelievable that this sign would be in my hotel room, isn't it? That's why I took a picture with my cell phone. Even to this day, I love looking at this picture because it is a perfect reminder of the moment when everything changed.
I had been feeling so unsettled, wanting to leave my job and there I was, in a random hotel room in Chicago with a sign staring me in the face telling me exactly what I needed to hear. Urging me to take action. I was trying to figure out if the message really was just for me. Maybe every room had the same sign. I had always believed the Universe sent subtle signs and we are often pointed in the right direction, but this one felt too obvious.
However, despite all the questions running through my mind, it was at that exact moment when I felt things shift. Seeing that sign was a moment of clarity because it strengthened what I always wanted to believe – that life really is about creating yourself and I really am supposed to take advantage of my ability to create the life I want to live.
I knew I wasn't supposed to settle and decide that "it is what it is". I was not only allowed to rethink what was possible for my life, but that was exactly what I was meant to do.
It was a little less than one year later that I ended up quitting my job and going after what I really wanted. I can honestly say it was one of the scariest and best decisions I ever made.
A New Year Filled With Amazing Possibilities
And, since it's the beginning of 2013 and a great time to start getting serious about your desires and ambitions, I thought I would share this story in case you are considering making any type of changes in your life.
"Life is About Creating Yourself" is a truth that is meant for all of us and sometimes it helps to hear someone else reassure you that you are absolutely meant to live the life you always dreamed about – and, you are.
One of the most important things I have ever learned was that if you have a feeling that there is something more for you, it's there for a reason and you're meant to find your way to whatever it is you really want for your life.
Maybe it relates to your profession or a relationship, or maybe there is something you've just always wanted to accomplish. Whatever it is, TODAY is the perfect day to start getting serious about going after it. And, if you're interested in following the same 7 steps I always follow to accomplish anything, I am putting the finishing touches on my new course and am so excited to be able to share it with you in a couple of weeks.
But, for today, just start rethinking what's really possible for your life.
The Possibility of Today
1.  Spend some time daydreaming and for just a little while, throw 'being realistic' out the window. There is nothing too big or too small. Think about what it is that you really want for your life. What is your 'something more'?
2.  Write down at least five possibilities. Your list can consist of big things and small things. The only thing that matters is that they are all things you really want for your life. When you think about how you really want to live what specifically is missing?
3.  Pick One and Commit. Now that you have your list, pick one thing and commit to pursuing it. Put together your plan and start leaning in the direction you really want to go. Commit to taking a step everyday -even if it's just a babystep.
Live Today Better than Yesterday.
Did you like this article? Please share your thoughts in the comment section below. If you have any questions or if there's something I can help with, please feel free to use the contact form or e-mail me directly at (sibyl@possibilityofotoday.com). I always love hearing from you.