"Surrender to what is. Let go of what was. Have faith in what will be." Sonia Ricotti
How good are you at accepting whatever it is that comes your way? The challenging times, disappointments, heartbreaks, or anything else you would have preferred happened differently. A lot of people call this "surrendering" or finding your way to accepting those situations you can't control or change.
I was thinking the other day about the importance of accepting certain situations that come your way because I have noticed so many people (myself definitely included) being asked to do just that and put their "surrender skills" to work.
Have you noticed recently the changes that are happening?
Maybe something has changed in your life – like a relationship, or your job, or your financial situation, or maybe you were hoping certain things would fall into place, but they didn't. Or, perhaps there are just some changes you have personally been going through for awhile and they seem to all be coming to a head.
It actually reminds me of this great quote by Paulo Coelho … "Life has many ways of testing a man's will, either by having nothing happen at all or by having everything happen all at once." And, it definitely feels like one of those times where you can see the truth of this quote playing out in everyday life.
Well, there are a couple of interesting things I realized about surrendering and accepting those things you're not meant to change or that you have no control over changing:
(1) Acceptance is always the goal. It's exactly what we're meant to do. When we don't resist, deny or try to push against situations that we are meant to accept, we can work with them and then through them. It's the way we find the best solutions, insights, lessons and everything else we're supposed to gain from the situation.
AND
(2) In order to truly accept the situation, you usually must also sign up to embrace some sort of uncertainty.
Embracing Uncertainty
Have you noticed how oftentimes when situations arise and you realize the best thing you can do is accept them, there's usually some uncertainty involved?  Maybe you're unsure of how things will ultimately work out or if you will really be able to push through. Maybe you're unsure of how long it will take before things get back to "normal". Maybe you question how you will really ever get to where you want to be. There could be a lot of things that you just don't know and that can make it even harder to surrender and accept whatever has come your way.
Embracing uncertainty may not feel that comfortable at first. It's much more comfortable to accept situations and push through them when you feel in complete control, know exactly where you're going and how things will unfold.
But oftentimes, that's just not the way the process works.
So, I know that anytime the time comes for me to put my surrender skills to work, the first place to begin is to find my way to embrace any uncertainty. Because the reality is that although there may be unknowns, one thing we can always rely on is that everything always unfolds perfectly.
And, that means the best thing we can do is trust that truth and trust the process.
Our job is to find our way to trusting that no matter what's happening or what we don't know, somehow – someway things are unfolding just as we need them to. If we can just trust and believe that, it makes it much easier to embrace any unknowns and accept whatever has come our way.
And, once we take that step and truly accept whatever has happened, that's when the door opens, we realize how strong we really are and we find the best way through.
So, if you're also working on acceptance right now or surrendering to whatever the present moment has put in front of you, here are 5 simple but powerful messages to keep top of mind.
#1)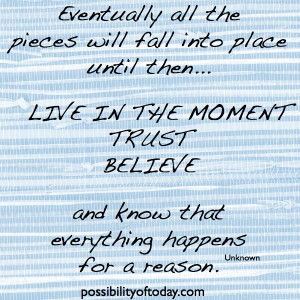 #2)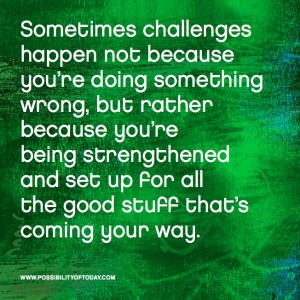 #3)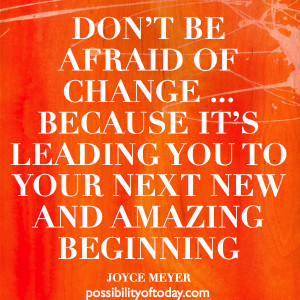 #4)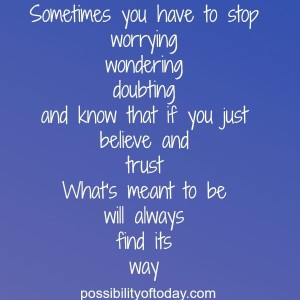 #5)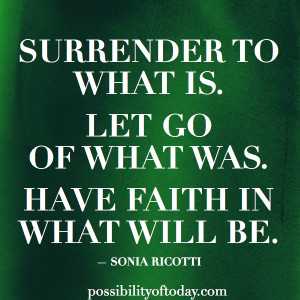 Live Today Better Than Yesterday.
Did you like this article? Please share your thoughts in the comment section below. If you need to contact me, please feel free to use the contact form or e-mail me directly at (sibyl@possibilityofotday.com) I always love hearing from you.
Please Click Here to listen to the latest episode of Possibility of Today Radio: 4 Simple Ways to Increase Your Happiness Set Point