My goal is not to be better than anyone else, but simply to be better than I used to be. Wayne Dyer
Wouldn't you say it is much easier to know what you should do than it is to actually do it? We know we should stop worrying, forgive people, look at challenges from the right perspective, break bad habits, believe in ourselves, overshadow our fears with faith … and so many other things that deep down we just know are right for us.
The problem I had was that although I knew exactly what I should have been doing, there were times (and plenty of them) when I wasn't doing what I knew.
I was holding grudges and letting people push my buttons. I was complaining and getting frustrated at things I should have been "letting go". I had doubts. I was letting my worries about tomorrow pull my attention away from Today and the moment in front of me.
But, then I realized I could choose to do it all differently.
The reality is that often times the things we know don't automatically flow into our actions, our thoughts and how we choose to handle situations. But, we can use each day to practice and it is by all means one of those times where practice makes perfect. Eventually, we are able to better resolve situations, help soften tense interactions, and we chip away at the fears, doubts and anything else that may have been weighing us down and distorting our view.
And then one day, we look up and realize we're naturally doing it. All the practice pays off and we become firmly settled into who we really are so that all we know is shaping everything we think, say and do.
So, how do we practice moving through the day doing what we know?
Every morning we remind ourselves that we are going to bring our highest and best self to every thought, interaction and experience. Then, we thoughtfully move through the day practicing doing just that. At the end of the day, we do a little accountability check… Did I follow through? Did I bring my highest and best self to that situation at work or to that conversation with my significant other? Did I shine my Light on my worries and doubts?
Of course there is no need to beat yourself up or feel guilty if you know you could have handled a situation better. Just be aware and decide you will handle it differently the next time. With time and practice it gets easier and easier.
Here's a list of 5 things I've focused on. Perhaps some (or all of them) are things you're interested in practicing too.
5 Things You Want To Stop Doing
1. Stop holding onto things you know you're meant to let go of. It's an easy trap to fall into, but it's also a trap we're meant to get out of. A lot of times it's a process and each day you have to push yourself to "let go" a little more. One thing you can do is remind yourself that there are times you're meant to let go of certain things so better things can come your way.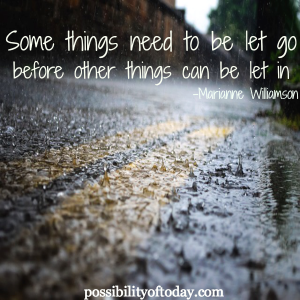 2. Stop trying to control things that you're not meant to control. It will just frustrate you endlessly. Every time you realize that you're trying to control something that is beyond your control – (1) Stop (2) Take 3 deep breaths (3) Remind yourself of this great quote by Dennis Waitley – "Change the changeable, accept the unchangeable, and remove yourself from the unacceptable."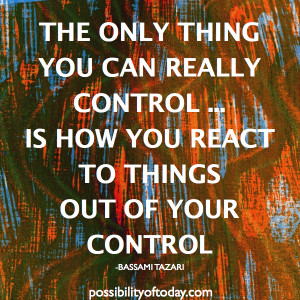 3. Stop worrying and feeding your fears and doubts. There's no point in working yourself up and worrying. And, like one of my favorite quotes by William James explains …"The greatest weapon against stress is our ability to choose one thought over another."  Anytime fears or doubts surface, shine your Light of Truth and remind yourself that everything will unfold just as you need it to. It's the way the process works and the more this Truth settles in, the quicker the fears melt away.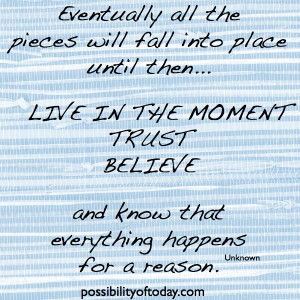 4. Stop regretting what happened and start loving your new beginning. Focus on the day in front of you and living each moment in the best way you can. Continually appreciate and remind yourself of all the great things you have in your life today.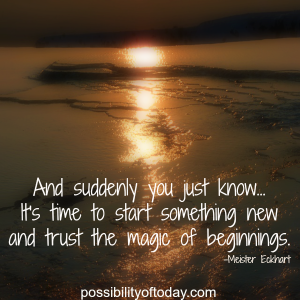 5. Stop forgetting what you're capable of. Every so often remind yourself of who you really are – how strong you are and what you're truly capable of. Take time to reflect on this and really feel the power of this Truth. Keep boosting yourself with this feeling and Truth throughout the day because it can have a tendency to fade, especially if challenges arise. However, if you're continually staying close to your center as you move through the day, it's impossible for anyone or anything to throw you off.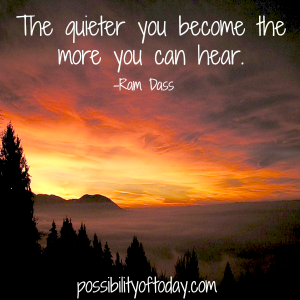 Live Today Better Than Yesterday.
Did you like this article? Please share your thoughts in the comment section below. Also, if you need to contact me for anything, please feel free to use the contact form or e-mail me directly at (sibyl@possibilityoftoday.com). I always LOVE hearing from you.