The secret of change is to focus all your energy not on fighting the old but on building the new.  (Socrates)
Have you ever had those times where you know you've got to work through some things before you can say … "Every single thing in your life is going smoothly"?
Maybe you've had some challenges with work or at your job? Or, maybe you've been trying to manage through relationship issues, financial issues, or health challenges? Perhaps it's been something more subtle and something has changed in you. Certain experiences you've been through have changed the way you see things and you know there's no going back. You're just at a different place in your life now.
We'll, as I've been managing through my own recent changes, I have continually reminded myself of one of the most important things I've ever learned … No matter what we're working through, if we can find the way to trust it, look for any lessons and then be willing to make any necessary changes going forward, we can make things so much easier for ourselves.
We always want to align ourselves with whatever has come our way and have the best perspective possible about it because somehow or someway it is strengthening us and working in our best interest. It's like that great quote by Joyce Meyer reminds us.
"Don't be afraid of change because it is leading you to a new beginning."
Of course sometimes trusting and embracing whatever is going on is easier said than done. But, after many years of doing it the hard way, I've realized there really is a better way to manage the changes and challenges that come our way.
The Possibility of Today – Managing Through Change In The Best Way
Step #1: Move through the day with the right thoughts top of mind and remind yourself of the Truth anytime doubts creep up. You continually shine the Light of Truth on any worries in order to maintain the right perspective so you can feel good, confident and set yourself up to do Step #2.
Step #2: Act on the things you know deep down you need to do. Push yourself to make the tough decisions, to respond to situations with your highest and best response, and to take on issues that need to be worked through. You don't have to do it all at once or take on too much, but you do have to take continual steps in the right direction.
Today (and every Today that follows) if we can just commit to doing those two things, we can manage through whatever has come our way much easier. Here are 5 great things I keep top of mind anytime I am managing through change. Maybe one or all of them will also be helpful for you to keep top of mind.
5 Simple But Powerful Things To Keep Top Of Mind Today
1. "Not to spoil the ending for you … But everything is going to be okay." (Author Unknown)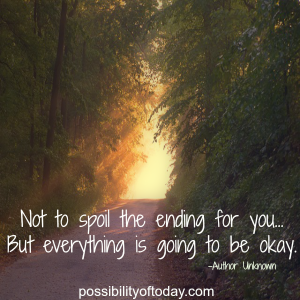 2. "The secret of change is to focus all your energy not on fighting the old but on building the new.  (Socrates)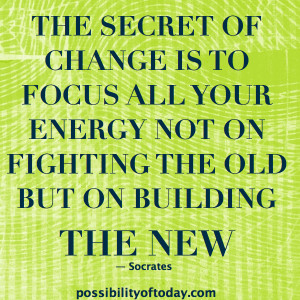 3. "Some things need to be let go before other things can be let in." (Marianne Williamson)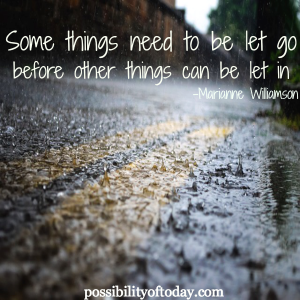 4." And suddenly you just know … It's time to start something new and trust the magic of beginnings. (Meister Eckhart)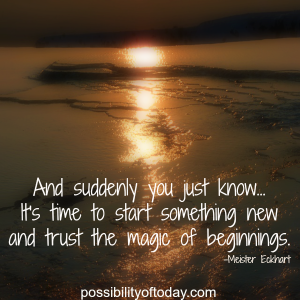 5. "I keep my heart and my soul and my spirit open to miracles." Patrick Swayze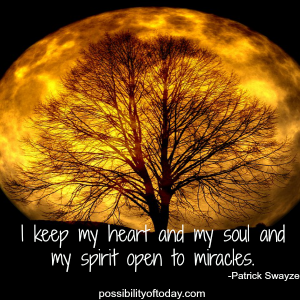 Live Today Better Than Yesterday.
 Also, if you're interested in listening to the latest Possibility of Today Radio Show, please Click Here.
Did you like this article? Please share your thoughts in the comments below. If you need to contact me for anything, please feel free to use the contact form or e-mail me directly at (sibyl@possibilityoftoday.com). I always love hearing from you.