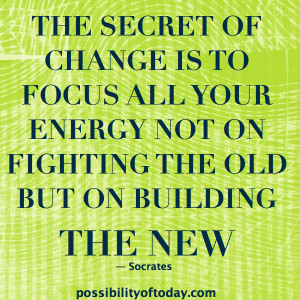 "The secret of change is to focus all your energy not on fighting the old but on building the new." Socrates
Can you even believe it's 2014? I feel like so much happened last year. Do you agree? Maybe something significant changed in your life? Or, maybe you had a year filled with some ups, some downs and plenty of challenges.
Whatever the case may be, the one thing we can count on is that every experience we had (even the challenging ones) helped us continually move in the right direction. Granted, we may have had times that were really tough, but every experience left us with more clarity and more understanding of how strong we really are. It's like one of my favorite quotes explains…
"We should have no regrets. The past is finished. Whatever it gave us in the experiences, it brought us something we had to know." Rebecca Beard
And, as we enter a new year and are looking for more and more things to fall into place, one thing is very clear …

It's Time
It's time to benefit from all that we experienced and take advantage of everything we've come to understand.
When we have experiences that allow us to realize important things about ourselves and what we should do, we are supposed to take everything we've realized and apply it to our lives going forward. We are meant to follow through. 
If you know deep down that you should let go, or forgive, or go after that one thing you've always wanted … It's time.
If certain experiences have changed you and you realize there is something different you need to do  …. It's time.
If you haven't believed enough in what you're truly capable of and know you've got to stop working against yourself …  It's time.
Once we know there is a better way … we've got to choose that better way. It's like another one of my favorite quotes reminds us …
"We are responsible for what we are, and whatever we wish ourselves to be, we have the power to make ourselves." — Swami Vivekananda 
There are so many amazing possibilities that will lead you to everything you have hoped for. Even if you feel like you don't see them yet, they are there. But, you've got to choose Today to take a step toward them and truly take advantage of them.
The Possibility of Today:
1. Take Some Time to Reflect on What You've Learned This Year. You don't want to dwell in the past, but you do want to make sure you've taken notice of the lessons that have come your way. Reflect on your experiences and the new understandings you've had. How will you move forward with your improved understanding? What things will you make sure to do differently? Write it all down so you can make sure you're applying what you've learned.
2. Listen to Your Extraordinary Side. Your Extraordinary Side is that part of you deep down that knows what you're really capable of. You may have heard people refer to it as your Higher Self. It's important to not allow any doubts, fears or lack of motivation work against you. Listen to your Extraordinary Side and allow it to shape and influence all your decisions and what you do.
3. Realize You May Have to Push Yourself A Little. If necessary, give yourself a little push to get serious and start taking action today. You don't have to do it all at once, but you do want to make sure you're doing something every single day to take another step forward.
Live Today Better than Yesterday.
Did you like this article? Please share your thoughts in the comment section below.