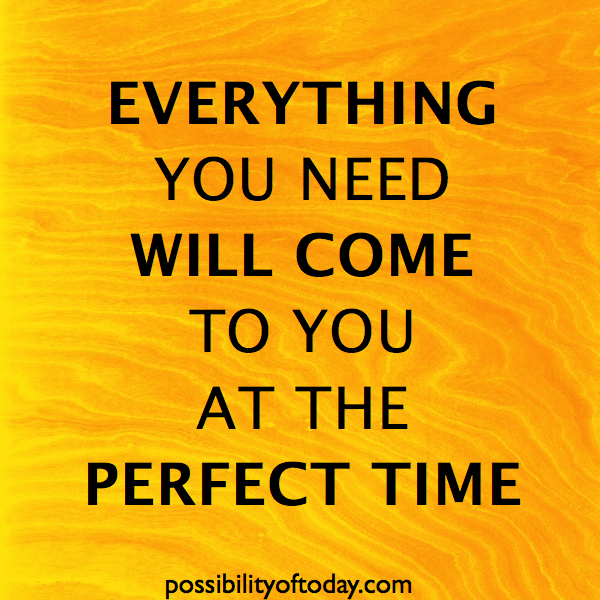 "Everything you need will come to you at the perfect time".
Doesn't it feel like even though 2014 has just begun, there is already a lot to manage through? Maybe you have had a lot going on or issues that need to be resolved. Or, maybe you are managing through some changes or personal challenges.
Whatever the case may be, haven't you felt like there is a lot to work through? I know I personally have been managing through so much lately.
Haven't you also noticed how easy it is to feel overwhelmed or get lost in worry? Our minds can continually focus on worse case scenarios and make things feel ten times worse than they really are.
It's times like these when I realize even more why it's so important to continually strengthen our ability to recenter and maintain the best peace of mind possible. To stay connected with the feelings of our Extraordinary Side or Higher Self.
Because when we don't, it is too easy to lose touch with the Side of ourselves that is calming, reassuring and knows that everything will work out just as we need it to.
It's All Going to Unfold Perfectly
No matter how things may appear or how much your mind may try to convince you otherwise, the truth is that everything you need really will come at the perfect time and things will unfold perfectly. That is one thing we can absolutely count on.
It's like that quote explains,
"Trust the process. Everything is coming to you in perfect timing." Sue Krebs
Of course, a lot of times that is easier said than done because the fears, doubts and worries continually creep up and shake our confidence. That's okay though. We're human and so there may be times when we have to work through waves of doubt and uncertainty.
But, we are absolutely meant to manage through each wave and bring the Light of our Extraordinary Side to it. When we bring the strength of our Extraordinary Side to anything we are working through, not only do the worries melt away, but the wisdom of our Extraordinary Side shines and points us in the right direction. We are able to stay calm. We can see our best next steps forward.
And, the Truth is that we are much bigger and stronger than any wave, challenge or anything else that might come our way. We always will find the way through when we rise up to the challenge.
I included the three steps I have been using to manage through challenges. You might want to print it out and have it with you as you move through the day. It makes it easier to manage through the waves when you have these steps top of mind. Of course, feel free to e-mail me with any questions (sibyl@possibilityoftoday.com). I always love hearing from you.
I will check in with you next week on how everything is going. I also am going to share something else I want you join me in doing very soon. It's time to take some big strides forward in 2014. But, for now, let's focus on managing through whatever is in front of us Today as our Extraordinary Side.
The Possibility of Today: Bringing the Light of Your Extraordinary Side to Challenges
1. Manage Through The Waves. Anytime fears, or doubts creep up in your mind, take three deep breaths and then remind yourself that even if you can't see how, everything will work out. Settle in and feel the strength of your Extraordinary Side. Each time you do this you get better at it and the waves will start passing quicker and eventually go away completely.
2. Do More of The Things You Enjoy. This is the time to really spoil yourself. Do more of the things that you enjoy and that relax you. Go on long walks, meditate, spend time in nature, read, or do anything else you enjoy.
3. Push through any Fear and Doubts. Decide you're going to be strong and confident even if you're just pretending in the beginning. Eventually, those feelings will take hold and overshadow any fears or doubts.
Live Today Better Than Yesterday.