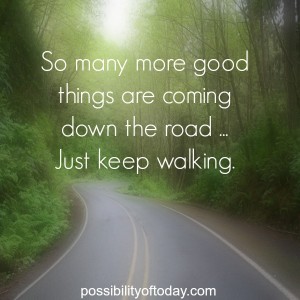 Have you ever come across the quote by Paulo Coelho?
"Life has many ways of testing a person's will, either by having nothing happen at all or by having everything happen all at once."
I feel like that quote totally applies to life right now, especially the part about there being so much happening all at once. It seems like challenge after challenge keeps popping up and there are so many things to handle and deal with.
Do you agree? Have you also had a lot going on lately?
Sometimes it just helps to know that you're not the only one working through things and to also be reminded that everything will work out like you need it. It actually brings to mind another one of my favorite quotes …
"Difficult roads lead to beautiful destinations."
Yes, things can be really challenging and push us harder than we may think is necessary. But, what I have finally realized, and what makes these times so much easier to walk through, is the understanding that they do happen for a reason. In one way or another there is always something that comes out of them that we need (even if it doesn't feel like it or we have no idea what that could possibly be).
So, one of the best things we can do while we are walking through these times is remind ourselves of that Truth, recenter when necessary by settling into our Extraordinary Side, and keep taking steps in the direction that feels most right.
We've got to make sure we keep moving forward every single day and not let everything that is going on weigh us down or make us feel stuck because we think we can't handle it all.
All the things we want for our life are on the other side of all the things we are working through. And, as one of my favorite quotes of all time reminds us … "So many more good things are coming down the road … just keep walking".
Reassurance Always Come When You're Listening
Also, haven't you noticed that as we are working through these times, we get little reminders and reassurance to trust the way things are unfolding? Maybe someone will say something reassuring or maybe we will read something or come across a profound quote. 
I used to overlook and dismiss many of the reassurances that were coming my way. I thought they were just "feel good" sentiments and that I couldn't really count on what they promised. There were even times that I thought it would be crazy to believe in any reassurances because very little seemed to be working out or falling into place. But, you live and learn. And, now I realize that my lack of complete belief was actually what was working against me the most.
It's not crazy to believe in the messages and reassurances that come our way … It's crazy not to believe.
The reassurances are coming for a reason. They are meant to point us in the direction of our inner voice. It's why they catch our attention and why the messages resonate. We are meant to listen, let them strengthen our belief even more and provide us with some additional inspiration to keep going. They are our True North.
5 Simple But Powerful Truths to Keep Top Of Mind.
#1) "Don't let what happens or what doesn't happen bother you. Life has a way of rearranging perfectly so what you truly need can come together."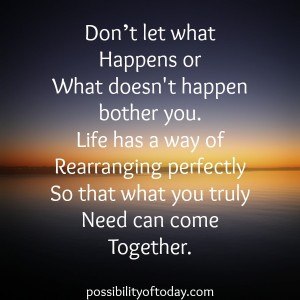 #2) "What is coming is better than what is gone." Arabic Proverb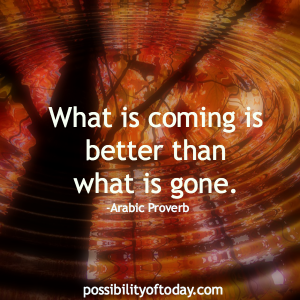 #3) "Just because the past didn't turn out like you wanted it to, doesn't mean your future can't be better than you've ever imagined."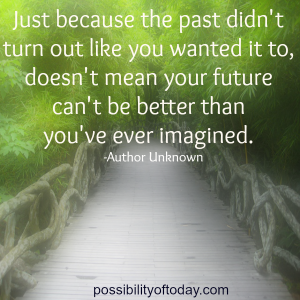 #4) "Everything you need will come to you at the perfect time."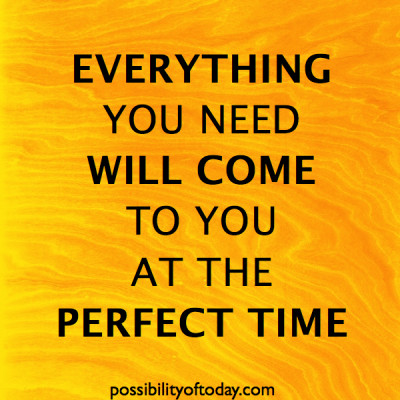 #5)" So many more good things are coming down the road … just keep walking."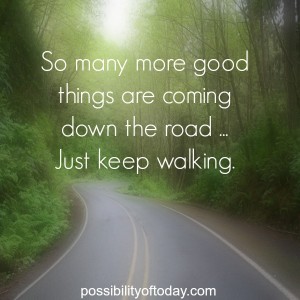 Live Today Better Than Yesterday.
Would you like a free subscription to the Possibility of Today Online Magazine? Click the link below and sign up to have all the new articles sent to your inbox. Also, if you need to contact me for anything, feel free to e-mail me directly at sibyl@possibilityoftoday.com
Looking for some more inspiration? Check out these articles.
5 Simple But Powerful Things to Keep Top of Mind Today
How You Get the things You Want To Fall Into Place
What To Do When You Have Too Much To Do
Looking for something to listen to? Check out these podcasts.
Looking for some more happiness? How You Really Can Find It
How You Connect The Dots of Your Life