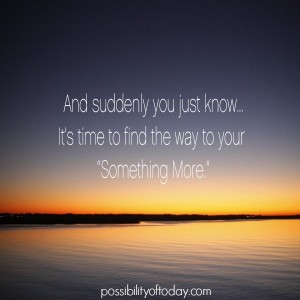 "And suddenly you just know … It's time to find the way to Something More."
What a year it has been. Wouldn't you agree? So many challenges and so many things to work through. I know I've said it before, but I just have to say it again. It's hard not to notice all the challenges that continually keep happening. Just when you think you've finally gotten things under control, something else comes up.
But, that's the way life goes.
There are going to be those times when we have to deal with challenges. Even though these times require that we dig deep emotionally, mentally, and spiritually, there is so much we gain every time we push through another challenge.
I was talking the other day to one of my friends and she said one of the funniest and best sayings I have ever heard to describe challenging times.
Every time that yet another challenge or problem comes up, she says to herself … "Here I grow again." 
That saying just makes me smile because it is so perfect and so true.
It also helps you remember that even though challenges come … they also go.
We overcome them. We take step after step forward. Things eventually get easier. And, most importantly we grow in so many ways. We realize just how strong and capable we truly are. It actually brings to mind that great quote by Paulo Coelho-
"Nothing lasts forever … pain and troubles included."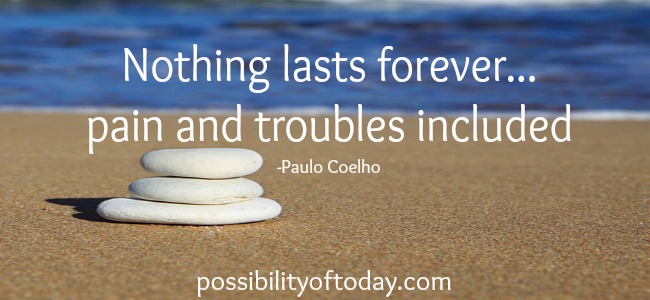 After working through my challenging times for too many years the hard way, I finally realized there is a better way to manage through these times. It has to do with our mindset and how we choose to move through the day.
It's easy to fall into the trap of focusing way too much on your problems. You can end up riding the downward spiral and by the end of the day everything feels overwhelming and way too heavy.
But, once you realize that you can avoid that trap by choosing to do things differently, it makes getting through these times ten times easier.
Start The Day The Right Way
Every morning we have to start the day off right. Before you do anything else, give yourself at least ten minutes to relax, meditate, or simply enjoy some silence. Then spend a couple of minutes focusing on the right thoughts that inspire you and align you with your inner strength. You take time to center yourself.
That's it. It really is that simple. All you have to do is give yourself time every morning and then choose to move through the day the right way.
Of course on some days there will be issues to be worked through and things to handle. But, you will be centered and have the best mindset to manage whatever comes your way that day. If you feel yourself getting upset or straying too far from your center anytime during the day, you close your eyes and take three deep conscious breaths.
That's how you go through every single day staying centered. That's how you carry the load the right way … no matter how heavy it is.
As Lena Horne reminded us, "It's not the load that breaks you down. It's the way you carry it." 
Here are some of my favorite thoughts that I focused on over the last couple of weeks and shared on the Facebook Possibility of Today Page. You can focus on them after your morning relaxation time. They will help you see things from the right perspective so you can choose to move through the day in the best way.
5 Simple But Powerful Thoughts To Focus On Today
 1. "Be patient when it seems things are not going right and may never be right again. Accept that what is yours will come to you in the right way at just the right moment." Iyanla Vanzant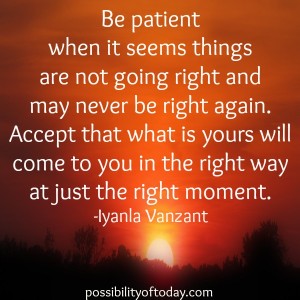 2. "Never give up. When your heart becomes tired, just walk with your legs – but move on." Paulo Coelho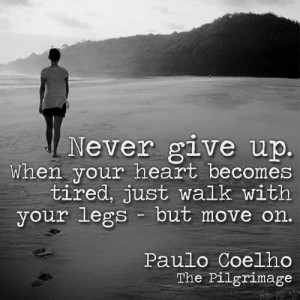 3. "Remember everything happens for a reason. Maybe you don't see the reason right now. But, nothing you've gone through has been in vain. Life is rearranging perfectly to give you exactly what you need."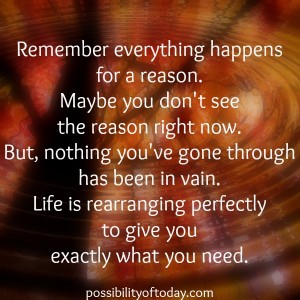 4. "When you come out of the storm, you won't be the same person who walked in. That's what this storm is all about." Haruki Murakami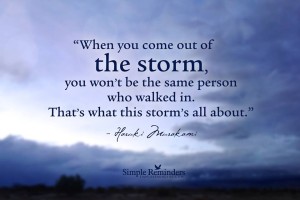 5. "Whenever you find yourself doubting how far you can go, just remember how far you have come. Remember everything you have faced, all the battles you have won and all the fears you have overcome."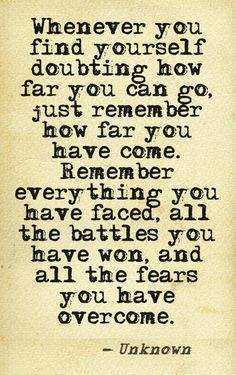 Live Today Better Than Yesterday.