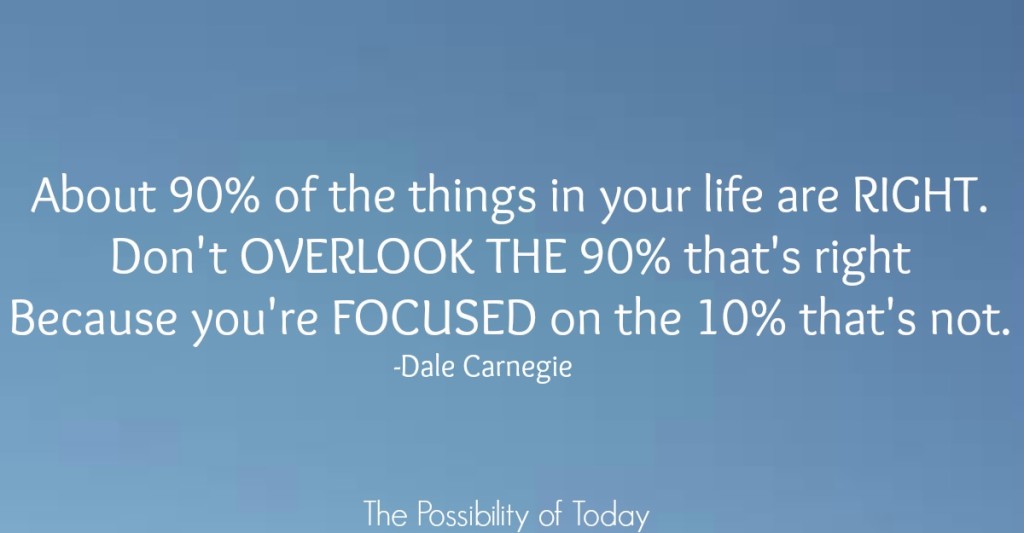 "About 90% of the things in your life are right. Make sure you don't overlook the 90% that's right because you're focusing on the 10% that's not." – Dale Carnegie
Isn't that a great quote? It's actually one of my favorite quotes of all time. And, Today, if you're like me, and also have a lot going on, this is a great quote to remember.
Take a quick minute and think about it…
Even if everything isn't 100% perfect today, when you're honest with yourself and you look at things from the right perspective, you can see that at least 90% of the things in your life are working and going right. That's right, 90%.
And, 90% is a lot going right.
But, have you noticed how your mind will try to focus mostly on what's wrong or the 10% that's not working? It's like all the bad stuff comes to mind quickly and sticks around, but it's not as easy to remember and stay focused on all the good stuff that's going well.
This was the exact problem I ran into earlier today.
The Chief Negativity Officer in my mind was all worked up. It was agitated and ready to overlook the 90% that's working and focus on the 10% that's not. It was saying things like:
"Is this ever going to get easier?"
"This is so stressful."
along with any other negative thoughts it could think of:
"That's the rudest thing ever. How could he say that? "
"I don't feel like dealing with all this today, but what choice do I have."
It Will Keep Going & Going…If You Don't Stop It
But, I know the pattern of the Chief Negativity Officer all too well. I also know that it will keep recycling negative thoughts if you let it. So, as soon as it even begins getting worked up, I'm on guard. I remind myself … Nope. I'm not getting sucked in. There's a better option- a much better possibility.
And, that better possibility also comes with peace of mind which actually helps you solve problems instead of making things more difficult for yourself.
It's so easy though to fall into the trap and get too caught up in everything that you still have to work through. But, it doesn't have to be that way Today (or any other day).
Remind Yourself of The Truth
Here's the Truth: You're doing what you're supposed to do and your hard work will pay off. You're taking step after step forward and more things will fall into place each day. You've done it before and this time will be no different. But, it is important to have a positive mindset and feel at peace. It's like another one of my favorite quote by Marianne Williamson explains…
Ego says, "Once everything falls into place, then I'll feel at peace." Spirit says, "Find your peace and everything will fall into place." 
The Possibility Of Today – Focusing on the 90% That's Right:
1. Set the plan for your day in the morning. At the beginning of the day, remind yourself that you're going to focus on the right things and feel good. Take 2-3 minutes and envision yourself going through your day in the best way.
2. Don't let the CNO takeover. Anytime the wrong thoughts come up, take a couple of minutes to take several deep breaths and remind yourself of Dale Carnegie's quote … 90% of the things in your life are right.
3. Spend time reflecting on the 90% and Feeling Good. Give yourself boosts of positive energy as you move through the day by spending time reflecting on the 90% and specifically what's right and good in your life Today. Enjoy the good feelings that naturally flow anytime you have genuine thoughts of gratitude.
Live Today Better Than Yesterday.