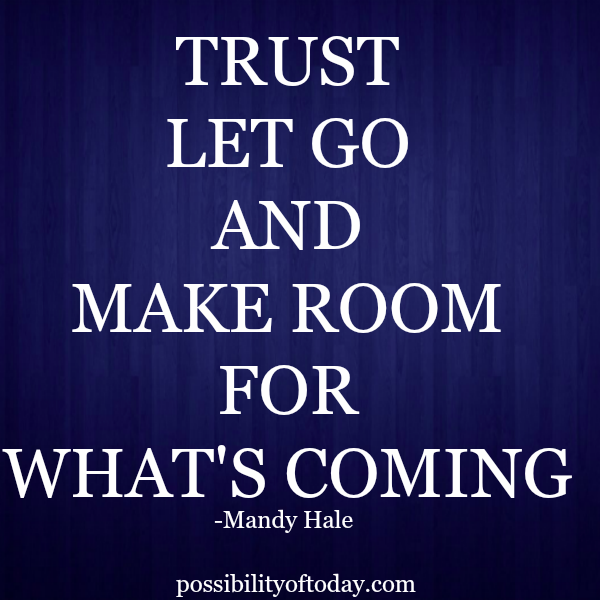 "Trust. Let go. And make room for what's coming." Mandy Hale
Have you ever had the same lesson come up in your life over and over again? So much so that no matter how much you don't like to admit it, you can't help but see it. Well, for me, that lesson is "Let go".
Last night, I literally said to myself "Just let go Sibyl. You know it's time."
The lesson to "let go" of things you know aren't right for you can creep up in so many different areas of your life – work, friendships, relationships, bad habits, etc.
I always eventually see the light, but a lot of times I'm too slow "letting go", even when I know something is not right for me.
It's easy to stay stuck doing what you've been doing. A lot of times it's the simplest and most straight forward path. We make excuses to not "let go". We come up with rationales and convince ourselves our reasoning is sound … but deep down you know better.
You've Got To Be Willing to "Let Go" To Get What You Deserve
When we hold onto things we know we're meant to let go of, it does no good for anyone, especially ourselves. We end up getting in our own way and blocking ourselves from the better things that are trying to come to us.
Do you want a personal example? I've got plenty. But one of the biggest things I finally "let go" was a job that wasn't right for me.
I held onto my job as an attorney for far too long. I should have quit two years earlier when I knew I was being undervalued. I knew it wasn't the right fit, but I stayed. I convinced myself that I was "being practical" and "realistic." I had bills, kids and other responsibilities. In hindsight, I know I was just scared to make changes and shake my life up.
BUT…
when I finally let go, I found my way to what I really wanted and was supposed to be doing. I created the Possibility of Today, wrote a book and created a lifestyle that allowed me to do the work I love (as the amazing Scott Dinsmore lived his life encouraging us all to do).
Please tell me why I didn't let go sooner? You live and you learn.
But, even when you learn and you know what you're supposed to do, you can continue to make the same mistakes and hold on too long again, and again, and again.
So, after my most recent episode of not letting go soon enough, today, I'm vowing to not stay stuck or hold onto things I know I'm meant to let go of. How?
Well, one way to get serious and start "letting go" is pretty straight forward. Make a list of all the things you know you need to "let go" and stop doing them one by one. You hold yourself accountable and start making different decisions about what you're doing every day.
Here's my list of things I'm letting go of. Some of these things are bad habits I let go of a while ago, but I'm including them on the list so I never fall into the trap again. I recommend you create one of these lists for yourself or feel free to use mine. It helps you stay focused on making progress and actually letting go of the things, people, or habits you know you need to.
20 Things To "Let Go" 
1. Negative thoughts
2. Negative or toxic people (or let's just say unhealthy relationships because of the need to also let go of #3 on this list 😉 ).
3. Judgmental thoughts about other people
4. A job or work environment that's not right for you
5. The need to wait for the perfect time
6. Trying to control things you're meant to trust
7. Spending too much time online
8. Grudges. Not forgiving someone (especially when they don't apologize)
9. Watching too much television
10. Working for too many hours
11. Trying to please everyone
12. Unproductive business relationships
13. Doubts
14. Letting the actions of other people affect your inner peace
15. The fear of failure
16. Needing the approval of other people
17. Not being willing to sit in uncertainty and trusting things to unfold
18. The need for perfection
19. Making excuses
20.Depending on others for your own happiness
Live Today Better Than Yesterday.