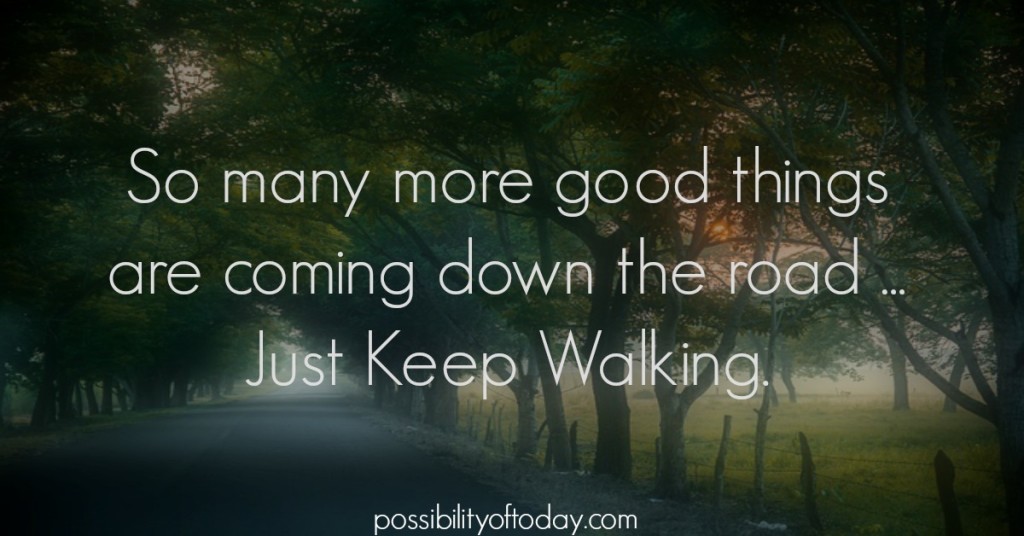 I was texting with my friend the other day and she sent me this message…
"All is going okay here – kind of been a rough couple of months, but I'm getting back on track."
We were finally catching up after both being so busy doing our best to manage it all – everyday life problems, kids, other responsibilities and way too much work. We're not the only ones. I've spoken to a lot of people who also have had a whirlwind of a year. Has it been the same for you too?
Well, if it has. I've got some good news.
All our hard work, pushing through, searching, hoping and taking step after step forward will pay off. In fact, it already is. Even if you can't see it yet, things are already rearranging and falling into place.
Or, as one of my favorite sayings goes …
Underneath any problems you have today is the unfolding of a wise and perfect plan. Even when it feels like things are going wrong, life is rearranging perfectly
to give you exactly what you need.
But, if you're like me, there are still some more steps you've got to take before you can say you've made it through to the other side.
The key is to have an approach that allows you to move through the day the right way so you can feel at your best and keep moving forward. It's not going to happen automatically.
The Possibility of Today – Living From Your Extraordinary Side
It's important today to commit to living from your Extraordinary Side, or what is also referred to as your Higher Self. Our Extraordinary Side is where our intuition lives. It's peaceful, serene, filled with wisdom and knowingness.
When you move through the day living from your Extraordinary Side, not only will you be less stressed out or worried, but you'll also be able to see and take your best next steps forward.
Living from your Extraordinary Side and taking it one step at a time is how you feel at your best and align with the way things are unfolding so they can fall into place.
3 Practices For Today That Help You Live From Your Extraordinary Side:
1. Outshine Your Worries. Use the power of gratitude. Gratitude outshines all your worries, concerns, and stress. As you move through the day, when you focus your mind on all the things you appreciate about your life, your mind literally doesn't have the space to focus on worries and stress you out. Move through everyday focused on the appreciation you have for everything – the big things and the little things.
2. Take Steps Forward When You Can … But You Also Must Be Willing to "Let Go". Things don't generally fall into place overnight. It takes time, thoughtfulness, patience and a willingness to "let go" of trying to control everything. We're not in control of exactly how or when things fall into place. So, the best thing you can do is align with the way things are unfolding.
There will be days when you actually can take another step forward and you should do what you can. But, there will also be days when you've done everything you could and you're meant to "let go", settle your mind and trust the way thing unfold. It's important to recognize the difference and strike the balance between taking steps forward and letting go.
3. Your Ideal Morning Routine. How you start the day is important. It matters every day and it really, really, really matters when you're pushing through challenging times.
You'll want to settle deeply into your Extraordinary Side every morning because on any given day, you might have a lot to manage through. You'll never be given more than you can handle and Living from Your Extraordinary Side will allow you to thoughtfully manage through whatever comes your way that day.
Each morning take time to yourself to settle your mind. Do whatever works for you – meditation, yoga, exercise, etc. The key is that it really needs to work for you. When you're done, you want to feel calmer, more settled and have a sense of relief.
One of my most favorite practices that I'm using right now is a 20 minute daily gratitude meditation by Deepak Chopra and Oprah. It's great and as soon as I'm done, I am deeply settled into my Extraordinary Side. You can Click Here to check it out.
Everything is going to work out. You will push through. Live from your Extraordinary Side and take your remaining steps forward.
"No matter what is going on in your life today, remember, it is only preparation. People come and go; situations rise and fall; it's all preparation for better things. You must stretch, reach, and grow into your goodness." -Iyanla Vanzant
Live Today Better Than Yesterday.  
Sibyl