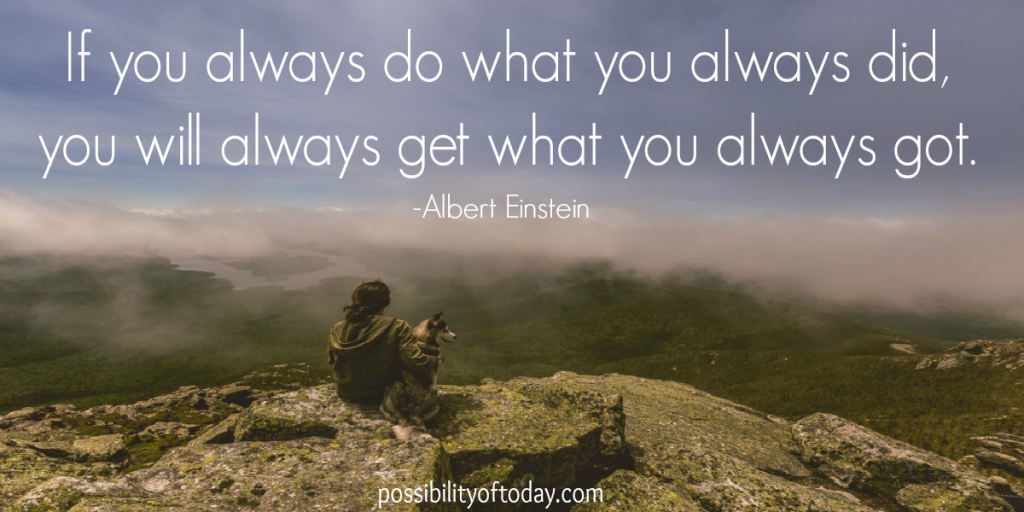 Last week I came across an article about the movie Groundhog Day. Do you remember that movie? For some reason, when I first saw the movie, I didn't really like it.
It's ironic that I wasn't an instant fan of the movie because my birthday is actually on Groundhog Day every year – February 2nd;-). And, interestingly enough, the movie is about one of the most important lessons we can ever learn. Guess I missed that!
But, as the article put it… "The movie Groundhog Day is directly and practically applicable to how we spend our day today and everyday."
A Quick Recap
In case you haven't seen the movie, Phil, the main character, is trapped in what I call an "Infinite Loop" so every day is pretty much the same. It isn't until he realizes that he needs to do things differently that he finally stops repeating the cycle and lives the life he always wanted.
So, while I was reading this article last week, I was reminded of how easy it is for anyone to fall into this trap where you unknowingly do things day after day that are working against you. Thankfully, most people aren't as blinded to the truth as Phil was in the movie.
But, have you ever noticed how you can get used to doing things the same way you've always done them?
Whether it's with work, or in a relationship, or something we've been working to make happen in our life, we can end up unknowingly repeating behaviors, habits and doing things that aren't actually helping us get the results we want.
But, here's the good news and what the article was explaining as one of the most important takeaway messages of the movie.
When you feel that you're kind of stuck in the same place you've been for some time or you feel like you've been working through the same challenges way too long… in just one day you can change things up.
Going About Things Differently … And Getting Better Results
We can choose to go about things differently than we have been and set in motion a positive ripple effect that leads us to what we've been working so hard for.
Sometimes that means we need to choose to look at our situation from a better perspective and put an end to any of the negative thoughts and negative energy we've been carrying around. Other times it means learning lessons and being open to better ways of working through situations.
Whatever the case may be, in just one day, we can acknowledge any past mistakes and take advantage of the opportunity we have today to do things a little differently – a little better.
Setting More Things In Motion To Fall Into Place
There's always the opportunity to make small changes today that set in motion more things falling into place. But, we've got to be open to taking a closer look because our patterns, habits and the same limiting thoughts we've been holding onto about a situation can be so subtle and very hard to see.
I know I've personally had those situations when I initially didn't notice the ways I was working against myself. But, once I decided to take an honest look at my actions, thoughts, and habits, I was able to make those small changes that allowed me to take a quantum leap in the right direction so more things could finally fall into place.
It's easy to overlook the lessons and continual pointers in the right direction we get every day that are urging us to do things differently. But, it's like that wisdom from Pema Chodron reminds us …
"Nothing goes away until it teaches you what you need to know."
The Possibility of Today
So, today if there's something you're still waiting on to show up in your life or if you're waiting for things to fall into place, it never hurts to step back, think about what you've learned, and be open to doing things a little differently.
You ask yourself, "What am I supposed to be learning from this situation? Are there unhelpful patterns or habits I'm repeating? Is there a better way I can handle things going forward?"
In just one day, we can have our own personal "reality check", find our best next steps forward, and then start taking them so we finally get where we want to be.
It's like another great quotes reminds us:
"Sometimes the smallest step in the right direction ends up being the biggest step of your life."
xoxo,
Sibyl
P.S. Coming soon… I'm going to be offering a one month program – "The Relationship Intensive". If you're looking for the right relationship, or if you're in a relationship and want to do the best things you can to keep it growing and getting stronger, I hope you'll consider joining us.
Since you're already a member of the Possibility of Today community, you can click the link below for an early peek at the program and to learn more.