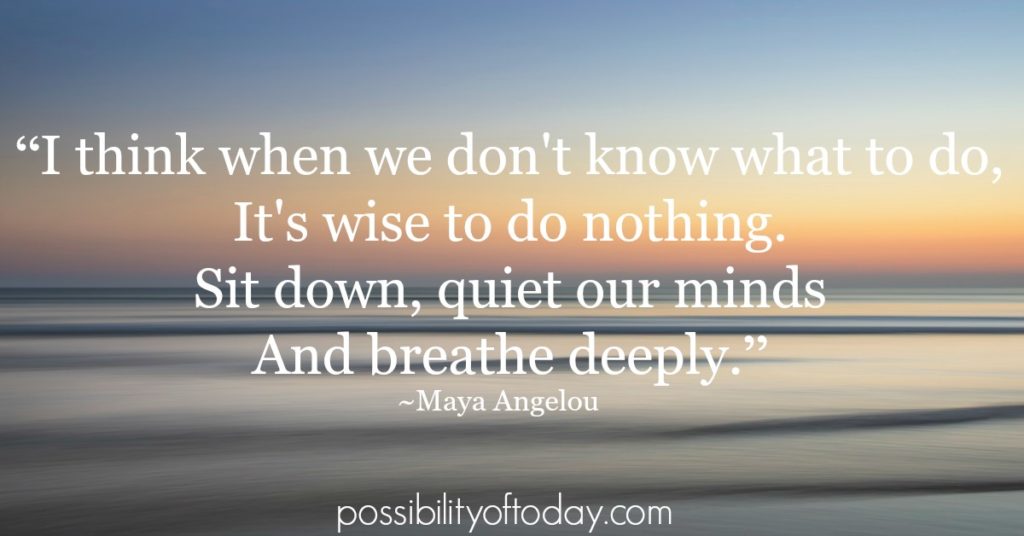 Have you noticed how difficult it can be to find the way through uncertainty? Those times when we can't clearly see the road ahead, but we know somehow or someway we must make our way down it.
Some of the hardest times of my life have been those times when I was surrounded by uncertainty. I couldn't see how things were going to work out. I can remember just sitting on my couch, staring out into space, and hoping that direction or guidance or answers would come. But, when the answers didn't come right away, I would get worked up and stressed out. I would say to myself,
I can't believe this … What am I going to do?
Where did I go wrong?
Can I please have some help or a pointer in the right direction?
I am much better these days at finding the way through uncertainty. I learned that all we need to do is stay calm, understand it's okay to not have answers and take things one step and one moment at a time.
Sometimes our answers come right away.
Other times we're meant to wait patiently, calmly and trust that the answers we need will show up at the moment we need them.
Life Unfolds At the Perfect Time
The reality is that it does take time for things in our life to shift, rearrange and fall into place. Sometimes we're waiting because our life is aligning with a bigger plan we can't see yet. Other times we're in a "holding pattern" because we're being strengthened and learning important lessons we need for the future.
Whatever the case may be, we're always safe.
Even though things may not happen on our time schedule, there's a timely and perfect unfolding to everything. When we remind ourselves of that truth, it's so much easier to quiet our minds and align ourselves with the path we're traveling.
What To Do Today
So, right now, if you're surrounded by any uncertainty and you're still waiting for answers or things to fall into place, know they will come at the perfect time when you need them.
Today, we take some time to sit, quiet our minds and breathe deeply. This is how we're able to recognize any answers that are put in front of us and determine our best next steps.
It's like another great quote reminds us …
"You don't have to know what's going to happen next. You just have to be present and trust in your intuition. You'll find there are thousands of openings and if one doesn't open, just stay put until one does." Jon Kabat-Zinn
xoxo,
Sibyl