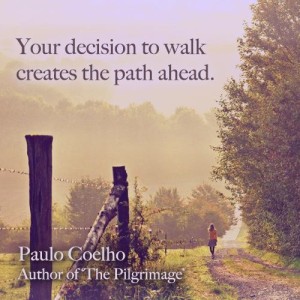 "Your decision to walk will create the path ahead." Paulo Coelho
I am sitting outside at a coffee shop with my headphones on putting together my "to do" list for the day. It's going to be a busy day. I've got a list of things I need to handle today.
I am working up the energy to call my health insurance company … again. I have been trying to resolve the same issue for months. I've been on the phone with them at least a half dozen times going back and forth over a claim they should have covered (a total test of my patience and tolerance). I am behind on several work projects. I recently found out there is yet more work to do on a book I have been writing. And, there is just the everyday stuff and the list of things I need to handle for my kids.
There are so many reasons I could be overwhelmed and stressed out right now.
But, after 30 plus years of doing that, I finally learned there is a better way – a much better way- to manage through today. It's days like these, where that quote by Paulo Coelho really helps you remember the truth. If you keep taking steps forward and take it day by day, eventually things will smooth out and fall into place. [Read more...]