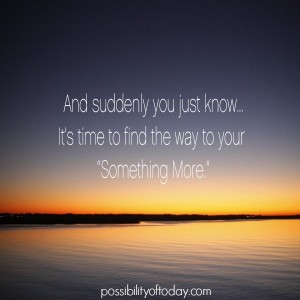 "And suddenly you just know … It's time to find the way to Something More."
What a year it has been. Wouldn't you agree? So many challenges and so many things to work through. I know I've said it before, but I just have to say it again. It's hard not to notice all the challenges that continually keep happening. Just when you think you've finally gotten things under control, something else comes up.
But, that's the way life goes.
There are going to be those times when we have to deal with challenges. Even though these times require that we dig deep emotionally, mentally, and spiritually, there is so much we gain every time we push through another challenge.
I was talking the other day to one of my friends from the Possibility of Today community and she said one of the funniest and best sayings I have ever heard to describe challenging times.
Every time that yet another challenge or problem comes up, she says to herself … "Here I grow again." That saying just makes me smile because it is so perfect and so true.