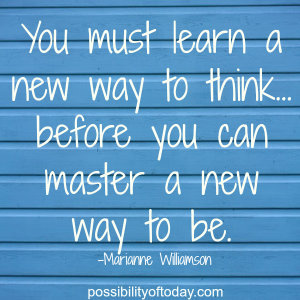 "You must learn a new way to think before you can master a new way to be." Marianne Williamson
I'll admit it. I was a bit naive.
I used to think the day was going to come when that negative voice in my mind would be gone once and for all. You know the voice that's notorious for focusing on all the wrong things.
It continually tries to get you to worry about one thing or another. I call it the Chief Negativity Officer and its always quick to respond anytime something goes wrong or you have any doubts.
It says all types of things …
" Things aren't ever going to work out."
" Don't get your hopes up. Every time you do that you just end up being disappointed again."
" You're never going to get where you want to be."
"What are you going to do when things don't work out?" (and so many other negative thoughts)