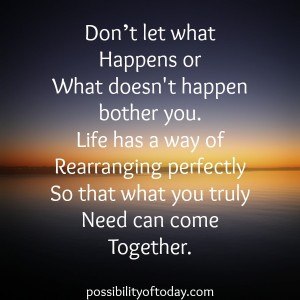 Have you ever been working for awhile (maybe even for years) to get something you really wanted? Maybe there was something you were trying to accomplish or maybe you realized certain things needed to improve in your life?
Do you know what has always been interesting to me about these times when we've been doing our best to get the pieces to fall into place?
When things finally do fall into place … there will be something else. There are always more possibilities and even more things we are going to want, regardless of what we accomplish.
After you finally get the dream job, then it's going to be about getting a promotion or the next job.
After you find the right person, then it's going to be about creating a healthy relationship with that person.
After you finish writing the book and get it published, then it's going to be about the next book.
There will always be something else. [Read more…]