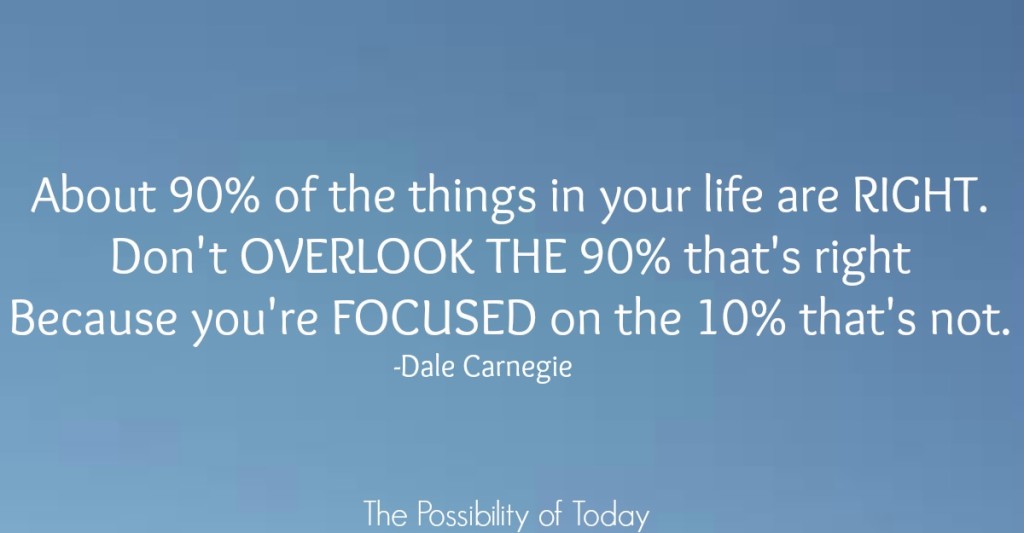 "About 90% of the things in your life are right. Make sure you don't overlook the 90% that's right because you're focusing on the 10% that's not." – Dale Carnegie
Isn't that a great quote? It's actually one of my favorite quotes of all time. And, Today, if you're like me, and also have a lot going on, this is a great quote to remember.
Take a quick minute and think about it…
Even if everything isn't 100% perfect today, when you're honest with yourself and you look at things from the right perspective, you can see that at least 90% of the things in your life are working and going right. That's right, 90%.
And, 90% is a lot going right.
But, have you noticed how your mind will try to focus mostly on what's wrong or the 10% that's not working? It's like all the bad stuff comes to mind quickly and sticks around, but it's not as easy to remember and stay focused on all the good stuff that's going well.
This was the exact problem I ran into earlier today. [Read more…]