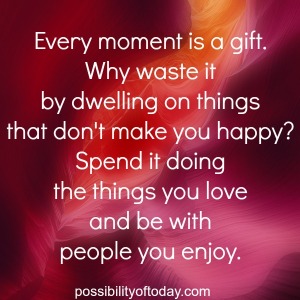 "Every moment you get is a gift. Why waste it by dwelling on things that make you unhappy. Spend it doing the things you love and be with the people you enjoy."
Have you always had great Thanksgiving days? I was thinking about some of my past Thanksgivings and I realized I didn't always do Thanksgiving "the right way". It's not that I didn't enjoy the day and feel grateful for all my family and friends.
But, there were so many years I wasn't taking full advantage of enjoying and experiencing the day because I was distracted by many of the thoughts running through my mind.
Sometimes I would be thinking about why people did or said certain things …
"Why did she say that to me? Did I do something wrong?"
"Why does he always do that? It is so rude."
Other times I would be thinking or worrying about things that had nothing to do with Thanksgiving day.
"What if things keep getting worse at work?"
"I don't know if things are ever going to work out."
Have you ever noticed all the thoughts that can recycle through your mind over and over again and take your attention away from enjoying and experiencing the moment in front of you? A lot of times you may not even realize how much your mind is wandering and how all your worrying, thinking, and mental complaining is affecting how you feel. That was the trap I was falling into and not even really realizing it.
But, I finally figured out there is a better way to move through the day … a much much better way.