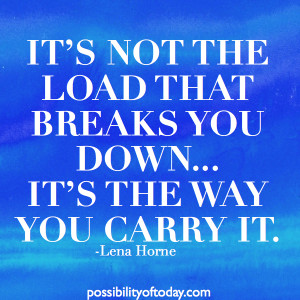 Is it just me or have you also had a lot going on? Challenges left and right, handling so much at work, at home and then don't forget about trying to make progress when it comes to the other things we also want for our life.
So much to do … never enough time.
How do we handle it all and keep our peace of mind (which we know is so important)?
Well, I remembered something that I finally learned after so many years (decades) of moving through busy times like these the wrong way.
In the past, when I felt like I had too much to do, it used to bother me. I let myself get stressed out and always felt like I hadn't done enough. I resented a lot of things I felt I had to do because they were weighing me down and getting in the way of the things I really wanted.
The Chief Negativity Officer in my mind would take over and the negative mind chatter would start …
"It's just too much. I am never going to be able to do all of this."
"If I didn't have to worry about dealing with (_________), then maybe I would be able to handle all the other things I really want to finish."
"Why do I have to handle everything? It always falls on me."
Listening to my Chief Negativity Officer never did anything but made me feel worse and less productive. I finally realized the problem wasn't all "the stuff" I had to handle or all the "issues" I needed to work through. Yes, it was a lot, but it wasn't causing the real problem. It's like that great quote by Lena Horne reminds us …
"It's not the load that breaks you down. It's the way you carry it."
I absolutely was not carrying my load the right way. It's easy to lose sight of the bigger picture and why it is actually a good thing that so much is going on.
Although on the surface, it just looks like we have a lot of issues and too much to do, what is actually happening is that life is rearranging perfectly to give us exactly what we need and what we have asked for.
Things are changing, moving, shifting and of course that means we have to be a part of the process and help them change, move and shift, but every single thing we are doing in one way or another is lining up to eventually benefit us.
And when I realized that … everything changed.
[Read more…]