The Possibility of Today Products
These tools and resources are all designed to help you integrate the practices into your days that will help you Live Today Better than Yesterday. You will find below both products for purchase and also free products that you can download.
Additional materials are added regularly so please drop by from time to time to check out the updated materials. If you have signed up to receive updates, you will receive announcements every time there is a new product or tool.
How to Stop Complaining & Start Living
This free Ebook provides a step by step approach to how you can become complaint free and absolutely improve your life forever. The other downloads that are a part of the Complaint Free Challenge (CF 30) are also included below.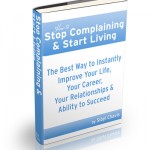 Download File
Complaint Free Totem: Use this picture as a constant reminder to not complain as you move through the day
Complaint Cleansing 30 Day Calendar: Use this calendar to monitor the number of times you complain each day
Complaint Free Pledge: Take the Complaint Free Pledge and commit to reduce and completely stop complaining
8 Principle of Success Check and Balance Workbook:
This workbook can be used to help you develop your plan of action to accomplish those things that are most important to you.
8 Principles of Success Check and Balance Worksheet PDF2
Living Better Daily Scorecard
There is always so much going on everyday that usually the last thing we are focused on is what we are saying, what we are doing, and how we are feeling as we move through our day. I started using a Living Better Daily Scorecard about a year ago and it really helps heighten your awareness as you move through your day. I was able to make a lot of improvements in terms of my mindset and attitude and I also was able to increase my productivity with respect to my daily activities using this Living Better Daily Scorecard.