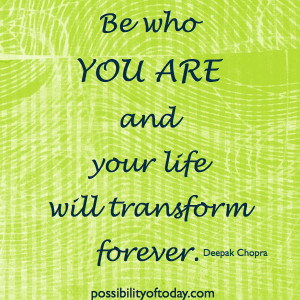 "Be who you are and your life will transform forever." Deepak Chopra
Have you ever noticed how easy it is to fall into the trap of doubting or questioning your desires and the things you want for your life? I can't even begin to count the number of times I discounted what I truly wanted and convinced myself what I wanted wasn't realistic or wasn't going to happen.
But, you live and you learn. And, now I know better.
It's not that I don't still have doubts at times, but I know those doubts are the voice of my Chief Negativity Officer trying to convince me of something that is simply not true. So, instead of listening to the voice of my Chief Negativity Officer, I choose instead to listen to my intuition and move in the direction of my true desires.
One of the most important lessons I have learned is that your desires are not something you should discount or not act on because they are actually pointing you in the direction that your life is meant to grow.
I am not talking about the fleeting desires or impulses that fade away, but rather those genuine desires that you can feel deep down are right. When it comes to those desires, there is a reason – a very good reason- why they continue to surface in your mind and you feel drawn to them.
It's your intuition doing its best to get your attention and assure you that you can trust the direction its pointing you in. You are meant to listen and do what you know deep down feels right.
So, from time to time, I update my list of things that are okay for me to do, even though my Chief Negativity Officer or other people may suggest otherwise. If you don't have a list like this, I would recommend making one. It just helps you stay true to yourself and the things you genuinely desire for your life.
Also, the latest Possibility of Today podcast is all about the things you can do today to follow through on your desires. You can Click Here to listen to it.