Welcome to the Possibility of Today
For those of you that are new here, I have put together a list of posts that give you more information on what the possibility of today is all about and the 4 things the community at the possibility of today is committed to doing.
I've also included some tools that you can use to get started and immediately start moving in the direction you want to go. If you have any questions at all on any of this information or if you think there is anything else I can help with, please don't hesitate to contact me. I am more than happy to help in anyway I can.
The posts
1. One Simple Thing You Can Do That Will Improve Everything In 2014
2. Live Today Better than Yesterday
3. 5 Simple But Powerful Thoughts To Focus on Today (Series – #15)
The roadmap – Join me on the journey
The Tools
Living Better Daily Scorecard
There is always so much going on everyday and usually the last thing we are focused on is what we are saying, what we are doing, and how we are feeling as we move through our day. I started using a Living Better Daily Scorecard several years ago and it really helped me heighten my awareness as I moved through the day. I was able to make a lot of improvements in terms of my mindset and attitude and I also was able to increase my productivity with respect to my daily activities using this Living Better Daily Scorecard. It just helps you keep the right things top of mind.

8 Principles of Success Check and Balance Workbook:
This workbook can be used to help you develop your plan of action to accomplish absolutely anything you want. If you already have a plan, then use this workbook to help refine your plan and you will greatly increase the likelihood of success.
go complaint-free
Going complaint free is how everything really began for me and how I opened myself up to all the great things that were just waiting to come my way. Check out this book that gives you all the information you need to successfully go 30 days without complaining.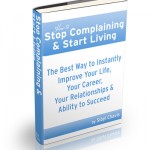 Download File
Live Today Better than Yesterday