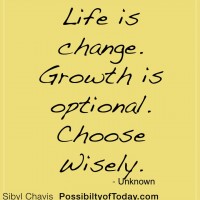 "Your life doesn't get better by chance. It gets better by change."
Isn't it just so true that life is constantly changing? Think about where you are today and compare it to where you were 5 years ago. Things are different aren't they?
For me, they are completely different — I live in a different place; I have a different job. Of course there are also new responsibilities, challenges, possibilities and a whole new set of goals and dreams that I have.
The one thing we know for sure is that life is going to continually change. And, what I finally realized stumbled into is that since it is inevitable that life is going to change, the best thing we can and should do is make sure we are taking advantage of that reality.
We've got to choose to play a very active role when it comes to creating the future we want. If we don't and we just sit back, things have a way of "just happening".
We are literally wasting the power we have to shape the way things play out.